These are what I think are the best places to elope in Ireland. If you are interested in eloping in Ireland, I'm sure I don't need to tell you why it's so amazing and beautiful. It has some of the most amazing scenery in the world, and some of the friendliest people. It's a dream place to elope and below are some of my favourite spots.
Dunluce Castle
Set on the cliffs of the stunning North Coast of Ireland, Dunluce Castle boasts as one of best places to elope in Ireland, maybe even the world. Built in 1500 this grand castle was matched only by the relentless tides as the castle kitchens fell into the sea one stormy night in 1639. Now in ruins, the north winds blow through the halls along its dramatic and rugged coastline. Click here to see more of what Dunluce Castle has to offer.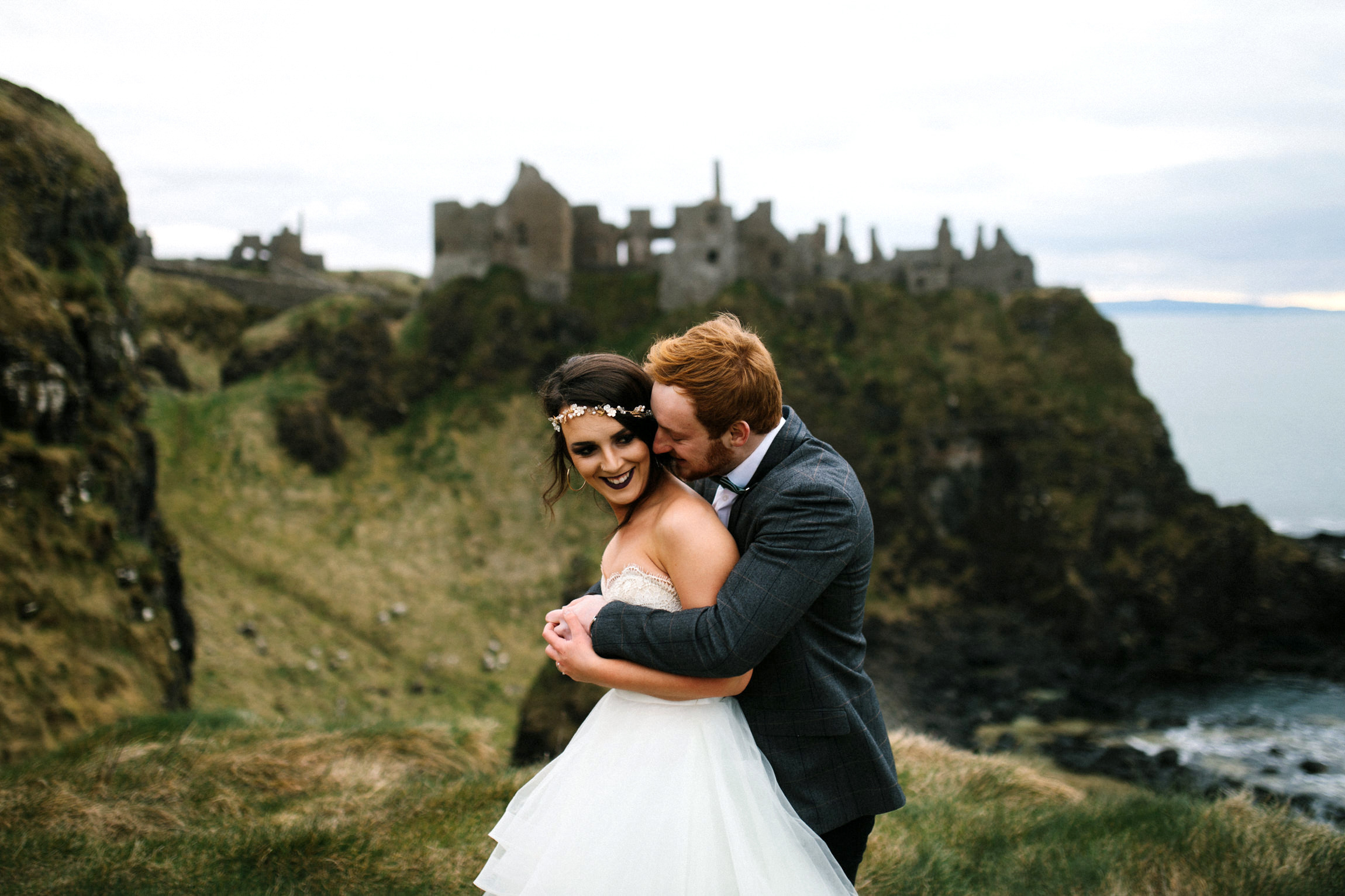 Kinbane Castle
Ireland's dramatic coastline never stops packing it's punches. Kinbane headland juts into the sea and offers stunning sea views along its fierce cliffs, and there's even a waterfall. The name Kinbane means white head and refers to the white limestone on which the castle stands. Not much of the castle remains, and the path up to it is narrow and stepped. It's more of a secluded place so it's a dream spot for elopements. For example you can see more of Kinbane Castle here.
The Cliffs of Moher
The Cliffs of Moher are definitely one of the best places to elope in Ireland. Rising to 214 m at their highest point and range for 5 miles over the Atlantic ocean. The sheer scale and dramatic impact of the cliffs are something to behold! There may not be a more stunning place to say your vows if you are looking for the best of the Irish beauty, because the Cliff of Moher will deliver in epic proportions! Further more the Guinness tastes that bit better in the South of Ireland! You can check here to see more of the cliffs.
Mourne Mountains 
If ancient castles aren't your thing, the Mourne Mountains will surely tick all the boxes! I feel most at home here and love exploring, hiking and dreaming in these mountains. The expanse of the Mournes span 22 miles with 15 mountain peaks, but don't don't worry if you don't want to hike all day to your location as the mountains have various adventure levels and range from quick 20 minute peaks to 6 hour hikes, with views just as stunning in each location. For outrageous beauty, awe inspiring heights and near by forests, look no further than these famous and majestic mountains. Check out this elopement here at Hen Mountain (which is only a 20 min hike!)
Tollymore Forest
Dripping with character and charm, Tollymore forest resides at the foot of the Mourne mountains. Besides being a Game of Thrones filming location it has many hidden places to elope with 1,600 acres of trees, rivers, waterfalls, mountain views and ruins. If you want to be immersed in nature and are dreaming of a forest elopement, Tollymore is the place for you!
Ballintoy Harbour
Also a Game of Thrones filming location, Ballintoy is a little harbour with a big amount of character! At it's heart Ballintoy is a quaint and small harbour but as you walk along the coastal path the earth yields unearthly ancient rock formations and a whirl of cliffs and beaches. On a clear day you can see Rathlin Island or even Scotland. Ballintoy is close to Bushmills, therefore making it great for planning food into your day, especially if you love whisky! Check here to see more of Ballintoy Harbour.
Thats what I think are some of the best places to elope in Ireland. It's sheer beauty and otherworldly charm will make you fall in love with Ireland, therefore making it a dream place to elope. If you are looking to elope I'd love nothing more than hearing about your adventure here!