If you are anything like me when you travel, you'll be wanting to find good coffee. I came up with the idea for idea of writing about the best coffee shops in Northern Ireland to help you out, and thankfully you won't be far from a killer coffee shop as Northern Ireland's coffee culture is booming! Whether you are into refreshing pour overs or bold flat whites, you won't be disappointed in any these epic spots!
.
Guilt trip coffee + donuts
Web: https://www.guilttripcoffee.com/
Insta: https://www.instagram.com/guilttripcoffee/
I know this guide is about coffee, but Guilt Trip hands down makes the best donuts in Belfast! They spare no attention to detail in making their donuts the very best. They prove them over night making them light and fluffy, ready to be packed full of delicious flavours. £5 will get you the tastiest coffee and donut going! My favourite is the blueberry jam and peanut butter which compliments a juicy drip coffee perfectly. 

I know I've harped on about their donuts, but they know a thing or two about coffee too, having won the N.I AeroPress championships last year. And another thing that sets Guilt Trip apart is their branding. They are killing it on vibes and you must check out their instagram!

If ever I need a change of scenery from my house, you'll often find me editing my elopements or weddings at Guilt Trip. They are based in East Belfast but soon to be opening up shop at the North Coast; so watch this space for essential road trip pit stops and pick up 'one for the road.'
.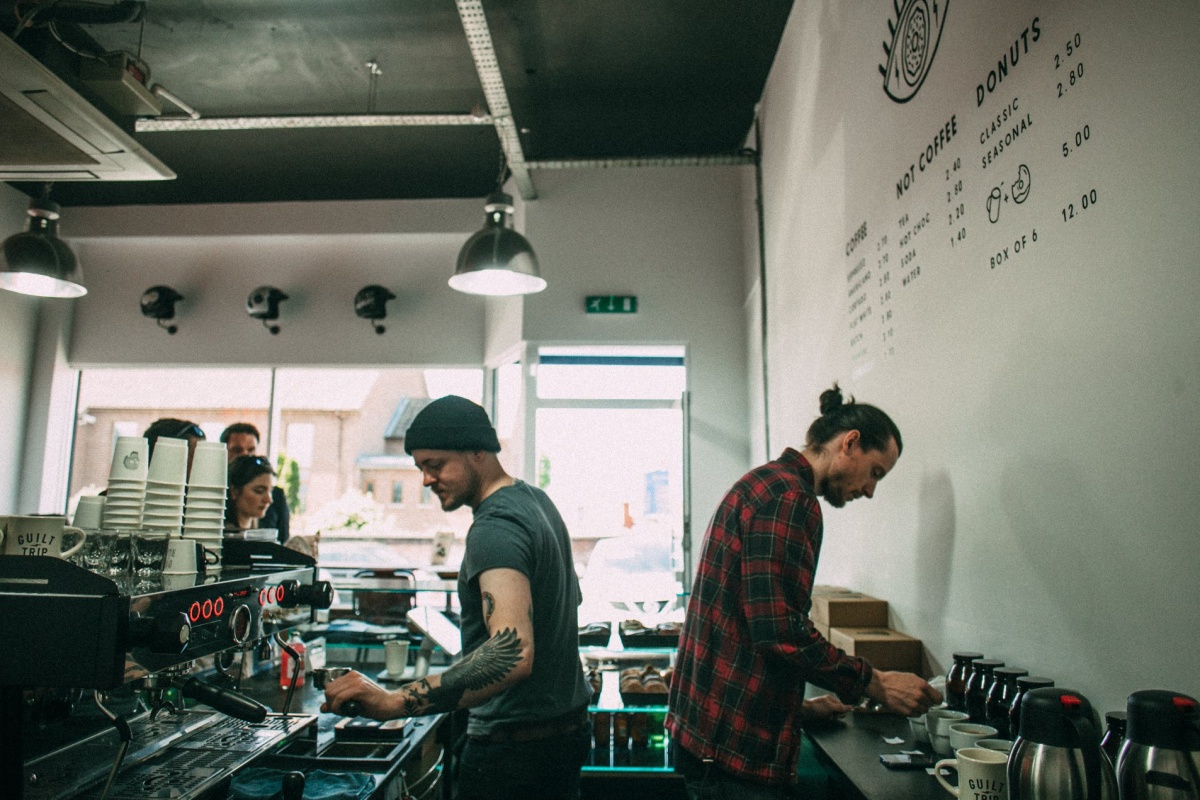 .
Root and Branch
Web: https://rootandbranch.coffee/
Insta: https://www.instagram.com/rootandbranchcoffee/
I have a bit of a love affair with Root and Branch as they first opened when I was getting into speciality coffee. I bought my first v60 there and they opened my eyes to some of the most wonderful flavours in coffee I didn't know existed.
When first they opened their tiny, and I mean tiny, shop they had a small brew bar and roastery in house. It was the cutest little place to experience the biggest and boldest flavours from around the world.

in addition, now having expanded their little roastery to two cafes and a dedicated roastery/caffee they are one of Belfast's biggest names in coffee. It's undeniable the passion and expertise that go into their coffee and without fail you will get a perfectly dialled in brew every time, letting you taste all the complexity and subtle notes that go into every part of the process, from, growing to roasting to cup.
.
.
General Merchants
Web: http://www.generalmerchants.co.uk/east-belfast/
Insta: https://www.instagram.com/generalmerchants/

General Merchants is the place to be seen; and is entirely perfect for brunch dates. Focusing on great coffee form world class roasters and dishes using fresh local produce. It's an experienced not to be missed. All your classic coffees are on the menu from drip to froth, but going there and not experiencing the food is something of sin. I'd go as far as to say it's the best brunch food in Belfast. Bold claim, I know.

You'll feel at home inside as GM's rustic feels will relive you of stress and make you ready to be revived for more adventure. General Merchants have 4 locations but their East Belfast location is right close to Sortmount Park, home to Northern Ireland's parliamentary buildings; so definitely a great place to check out and walk off a good feed.
.
.
.
Babushka Kitchen Caffe
Web: https://babushkakitchencafe.co.uk/
Insta: https://www.instagram.com/babushkaportrush/
You simply must check out Babushka while road tripping the North Coast. If you like your coffee with a view of the sea and the smell of sea salt, Babushka has views and brews a plenty. It's a small place but big on vibes and personality. The whole front is made of glass and you can see the entirety of the Portrush west strand beach.

Their main roasters are Koppi from Sweeden, so you know you are in for a tasty cup of brown liquid. Along with great coffee they serve all day brunch, seasonal specials and house baked treats. Babushka is fun, the staff are excited to be there, excited to see you, and just doing coffee right; and right by the sea. What more could you want? Get Babushka on your coffee list!
.
.
I've put this guide together to help those traveling to Northern Ireland for holidays, honeymoons, or elopements. I have more useful info here, and please feel free to get in touch if I can help with anything else. I hope you now have a good idea of the best coffee shops in Northern Ireland for your tasty brews! Enjoy your time in Northern Ireland!
Luke